I am joining with Oliver's Madhouse #magicmoments again this Monday.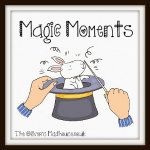 I am really enjoying dipping into the #magicmoment posts to up my feel-good factor.
Last week, I've caught myself glowing with quite a few #magicmoments, little things that bring a smile to my face.
Admittedly, looking back, most of them have involved cake or chocolate in some form.
And it's taken a few minutes pondering (fueled by some slightly healthier rice crackers) to think of one that reflects more positively.
But, here goes.
Last week, Junior came home from school with a certificate. Certificates aren't that unusual in our house, as the fridge door will testify. Usually, however, they have the word effort somewhere in the strap line. This one, however, was laminated and presented to me with something of a flourish.
J proudly announced he was now officially entitled to use a pen. *Gasps of shock horror*
(Actually he's been using pens, at home, in all shapes, sizes and colours, since he was a baby. We won't mention the time he used the bedroom wall as an easel. His school, however, uses the bestowing of a pen as an incentive for the children to improve their handwriting. Until then, it's pencil.)
The big beam on his face said it all. He was really chuffed (at least until that evening's homework when he discovered that you can't rub pen out very easily).
It brought a smile to my face too. J has struggled with his writing, having inherited my inability to spell. He grapples with his bs and ds. Getting him to write from left to right, instead of right to left, was a major achievement. Pencil grip wasn't so much a technique, as a form of torture.
For months, if not years, he's lamented his status as a pencil writer. So, although it may not seem much, we're loving the ever-so-slightly corny accolade, Licenced to Quill.