Last week, we had some great #magicmoments. We also had a lot of rain (some of which found its way through the barn's roof). However, we're not going to dwell on that. We even had a game of fun rugby, J Boy showing me how to tackle, in the drizzle.
Outside, my herb pots are doing well (full marks to the rain on that score). I'm so pleased finally to have somewhere to plant my basil and rosemary (I can kid myself that I'm becoming more earth motherly and green every time I pick my own herbs instead of driving 4 miles to the nearest supermarket).
J is settling well at school, and enjoying after school tennis and cooking (rice crispy cakes = another great #magic moment, diet notwithstanding). The week's accolade, however, must go to J's little geranium plant (with ceramic feather friend).
A sad straggly seedling, which he brought back from school last year, somehow it survived the Hovel, where I kept it on a window ledge and mostly forgot about it.
When we finally moved, I stuck it in one of the old chimney pots….and it has blossomed. Boy is chuffed (he is a budding plants man as well as a baker now). And every time I go outside I can see its happy red petals and the crazy bird. Even when it's raining.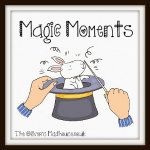 Linking to Oliver's Madhouse for #Magicmoments., my weekly dose of feel-good.